Microsoft Pivots to Digital Selling with Dynamics 365 and LinkedIn Sales Navigator
Editor's Note: This case study originally appeared on Microsoft's Customer Stories page.
Microsoft has flipped the traditional sales model over the past few years, from inside sales teams supporting field sales teams to those inside teams now outnumbering their field counterparts. Today, more than 2,500 digital sellers serve customers from eight sales centers around the world. As more customers move to digital buying, the volume of leads generated has grown exponentially. To keep up, Microsoft Digital Sales turned to Microsoft Dynamics 365 Sales, Sales Insights and LinkedIn Sales Navigator to scale for increased demand, engage customers remotely, and increase seller productivity.
Scaling for increased demand
As millennials move into the ranks of decision makers, they're expecting digital buying experiences. In response, inside selling increased 89 percent in just four years, according to a 2017 InsideSales.com study. That has resulted in more leads, more contacts, more activities, and more digital channels—and traditional tools and processes no longer meet these new challenges. Microsoft found the answer in its own business solutions, Dynamics 365 Sales and Sales Insights.
In the past, we faced the challenge of serving customers and building strong relationships at scale. How could we help our sellers reach more customers remotely, yet keep their conversations contextually rich and personalized? The AI features of Dynamics 365 were key to answering that challenge.
— Chris Weber, Corporate Vice President, Worldwide Commercial Business, Microsoft
Accelerating sales with an AI-driven workspace
Since Microsoft deployed Dynamics 365 to its Digital Sales team, revenues for that segment have risen consistently for the past three years and have reduced the cost of sales by 10 percent. Most importantly, the company is providing its customers with a personalized experience at scale.
The Microsoft Digital Sales team leverages the recently deployed sales accelerator, an AI-powered workspace in Sales Insights that helps sellers close deals faster. Sales accelerator cuts through complex to-do lists and channel noise to surface priorities. "Our sellers face the challenge of balancing their time between the many tasks they have to do to stay on top of customer needs, actioning marketing leads, developing and closing deals, and handling administration," says Justin McCarthy, a Senior Director of Digital Sales on Microsoft's Europe, Middle East, and Africa (EMEA) team. "We're looking to optimize productivity, because we strive to reach out to customers when they need us most so that we can deliver the best value. The AI sequencing in sales accelerator helps us prioritize and reach as many customers as possible and deliver on our mission."
Even top-performing sellers find it jarring to jump between screens and switch contexts, but sales accelerator combines information and insights for easy access. Some of the experienced sellers have up to 200 customers. "Sales accelerator shows sellers their previous notes and other context so that they can immediately drop into the zone faster with that customer for a richer encounter than they would have had in the past," says McCarthy.
Shelby Bleick, a Digital Sales Manager in the United States, regards Sales Insights as a virtual office for her team. "My team and I spend about 80 percent of our day in Dynamics 365 Sales Insights," she says. "There's really nothing else I need to run my team's business."
Sales Insights has capabilities for every aspect of selling—as an AI-enabled workspace, it supports sellers throughout their customer encounters. Bleick uses the AI-powered features for a bird's-eye view of her team's overall status, such as quota, leads, opportunities, and closed deals. Her sellers have everything they need, including the ability to call customers directly from the solution. Sellers begin their day by viewing the next highest-scoring lead, so they no longer waste precious sales time churning through customer lists and email threads.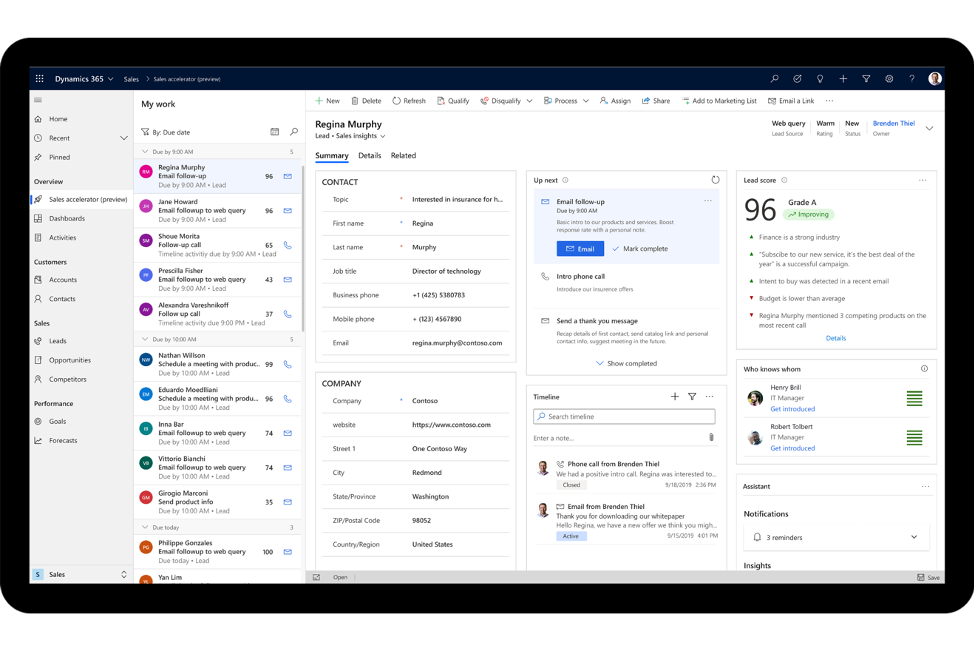 Working together while apart
Brittany Pavek, a Digital Sales Manager, and Cassie Meyhoff, Sales Director, Southeast Region, typically work from Fargo, North Dakota. Their respective teams are based 1,200 miles away in Texas. Sales Insights empowers their sellers to work independently and yet share information and receive feedback from Meyhoff and Pavek.
"We rely on the AI features of Dynamics 365 to surface marketing insights to our sellers," says Meyhoff. When a customer goes to the Microsoft website to start a trial or request information about a product, that information goes to the sellers in real time. The experience provides contact information—even pointing to the person's LinkedIn profile. "We're excited about this new feature, which gives us the ability to tie a customer's activity to their licensing details so that we know what the customer has or doesn't have. That helps us better prepare for customer meetings," she adds.
Building and maintaining relationships first
Selling enterprise software is complex and requires a high level of trust. Customers look to Microsoft sellers not just for answers to immediate needs, but also for advice and guidance. To become trusted advisors, sellers need insights about the company, industry, and decision makers.
The Digital Sales team can access that critical information and build relationships at scale with integration between LinkedIn Sales Navigator and Dynamics 365. "My team and I use Sales Navigator every single day, so the combination with Dynamics 365 gives us all the relationship insights we need in one single place," Meyhoff says. "It's the first thing I tap into before every customer call because it helps us connect to customers on a deeper level. Rather than sending out a blanket email, Sales Navigator provides a way to personalize the message and shorten the distance between you and your customers."
Pavek couldn't agree more. "I think that people buy from people they trust," she says. "I like that with Sales Navigator and photos, I can put faces to names of the people I want to connect with. I'm all about relationship building, and I like sharing articles or different top-of-mind topics that I think my contacts will enjoy outside of the sales process."
---